Major League
Inspired by listening to a lot of 'groovy' music like Les McCann, Cannonball Adderley, Blue Mitchell and more latin-oriented music, Edgar wrote ten songs. He then put together a quintet called 'Major League' which released his first album 'Checking the Vibes', in 1997. [put album cover here] Adding two horns to the line-up made the sound of the band 'danceable, colourful, groovy and catchy' according to various reviews.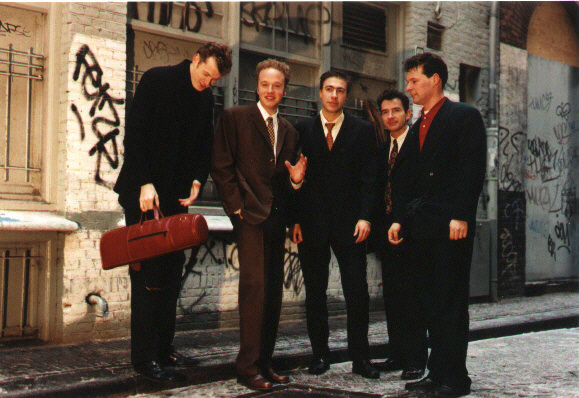 Line-up: Edgar Van Asselt (keys, compositions), Ruud Breuls (trumpet), Miguel Martinez (sax), Rudy Vley (bass), Wim Kegel (drums)
David Schnitter
In 1998, during a two months' stay in New York, Edgar met ex-Messengers tenor saxofonist David Schnitter at Barris Harris' weekly workshop at Rod Baltimore's. They started a fruitful musical co-operation that lasted for more than 10 years and resulted in two well received albums: 'Penpals' and 'A Smooth Journey'. [cover of 'smooth journey'+spotify embedded link] The music was rooted in hard bop, with a lot of free and post-bop influences added. The quartet played at North Sea Jazz in 2008 and toured Holland and abroad. During one of the gigs in Spain, Jorge Rossy was able to do one of the gigs, which led to a memorable evening. (link through to video page)
Line-up: Edgar van Asselt (keys), David Schnitter (sax), Erik Robaard (bass), Wim Kegel (drums)
View more videos from this project here
Van Asselt/Vistel Project
During a late night jam in Madrid Edgar met Cuban trumpeter Jorge Vistel. They had a common language to share and the next thing they were gigging and preparing for their first joint album: 'Tierra a la Vista', which was released on Fresh Sound records. Both musicians put in their own material and together they contributed al total of eight compositions to the album. Reviews were lauding the new collaboration between the two musicians.
'Tierra a la Vista' ('Land in Sight' in Spanish) was the first album coming out of this musical encounter between Van Asselt and Vistel and consisted of eight original compositions. The album was recorded in the Infinity Studios in Madrid and released on the famous Fresh sound label.
Line-up: Edgar van Asselt (piano), Jorge Vistel (trumpet), Reinier 'El Negron' Ilizarde (bass), Michael Olivera (drums), Maikel Vistel (sax)
Young Sinatras
Between 2005-2010 Edgar was a regular member of 'The Young Sinatras', a popular small big band that was playing a lot in Holland and abroad. The band started as a Sinatra tribute band, but was developing more into the direction of a modern sounding small bigband with a strong vocal presence by Paul van Kessel. The band was moving from being primarily a Sinatra tribute band to a more modern sounding band. On the 'This Day' album in 2008, arrangement of pop songs like 'Billy Jean' and 'My Girl' could be heard, next to jazz standards and some original compositions, one of them being 'Harlem Walk' by Edgar.
People Are Strange
Billy Jean
Lucy Woodward
Edgar worked together with singer/ songwriter Lucy Woodward on several occasions. Lucy is well known for, among others, her contribution to the Family Dinner Album by Snarky Puppy. Edgar performed with her on gigs and festivals in Holland, Denmark and Italy in 2017.
Vio
Edgar was approached by Hungarian tenor player and producer Viktor Harasty to embark on a project that featured Harasty's original compositions. Music that can be described as atmospheric, groove oriented and rooted in jazz/fusion styles like Weather Report, the Vio project did not only have a strong musical personality, but it was also the first project to feature 360 degree video.
Essence
Line-Up: Viktor Haraszti (tenor saxophone) Remco van der Sluis (drums), Taco Nieuwenhuizen Segaar (bass), and Edgar van Asselt (keyboards)
Haiku
Line-Up: Viktor Haraszti (tenor saxophone) Remco van der Sluis (drums), Taco Nieuwenhuizen Segaar (bass), and Edgar van Asselt (keyboards)