Edgar's new album "The Gentle Insult" is now available as CD and LP and of course as digital download at Bandcamp.The CD and Vinyl LP come in a beautifully designed digipack (CD) and sleeve (LP) both with excellent printing of the artwork and fully sealed for your protection.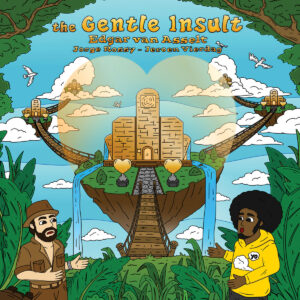 If you purchase the album from Bandcamp it also includes unlimited streaming of The Gentle Insult via the free Bandcamp app, plus high-quality download in MP3, FLAC and more.
The Gentle Insult focuses on nine of Edgar's new compositions that fuse jazz, latin, pop, classical, absurdism, 'rogue semantics' and VST's together. Edgar van Asselt plays keys with the support of a stellar rhythm section: Jeroen Vierdag (Caro Emerald) on bass and Jorge Rossy (Joe Lovano, Kurt Rosenwinkel) on drums and vibes (on 'Smokes and Mirrors').
Rossy's impressive resume includes collaborations with Brad Mehldau, Paquito D'Rivera and Kurt Rosenwinkel. Vierdag is a versatile bass player who has worked with pop giants such as Caro Emerald and Ilse DeLange as well with renowned jazz musicians as Anton Goudsmit. Van Asselt's tunes have a musical blueprint and leave space for many spontaneous musical contributions. The fun the trio has is right there from the start and makes the music come alive.
The Gentle Insult will be on all streaming platforms on April 14th, and if you leave your email address, we'll keep you in the loop.
If you want to know more about the album or hear a few sample tracks, you can find the details here.
Below is the video of "Madness of the Clouds"